Volunteers can sort and organize Auntie Helen's Thrift Store donations to give back to the community. Auntie Helen's Thrift Shop sells donated items and uses the store's profits to support the company's different services that support the community. Laundry and food programs are Auntie Helen's most world changing public services. During my community service I only noticed the people coming in for groceries but after researching online I learned of Auntie Helen's deep San Diego roots. During my first activity, cleaning storage bins, plenty of clients came in asking for food. By the end of my second activity, reorganizing thrift store furniture, food donations had run out. When my last task finished it was already time to close up the store for the day. In one day I could see how many people depend on Auntie Helen's to eat and it showed me the importance of services that help feed the community. With a little support Auntie Helen's Thrift Shop has been benefiting the San Diego community for over 30 years.
Volunteer's Help Support Auntie Helen's Thrift Store Services
Auntie Helen's utilizes help from volunteers to keep their Thrift Store operations running smoothly. At Auntie Helen's volunteers main task is to organize and sort through donated items. Donated items can range from CD's to clothes or from dinnerware sets to exercise equipment. A lucky thrifter can easily find a rare thrift on any given day as people consistently drop off items for donations.
Auntie Helen's Thrift Store Food Distribution Services
During my volunteer work at Auntie Helen's there was a lot of foot traffic within the store. I heard many people talk about their thrift experiences but I also noticed many people arrive just to pick up groceries. Auntie Helen's also receives donated food which it distributes to struggling individuals. When I arrived to volunteer, plenty of people came to pick up food but by the end of my second task there was no more food to distribute. Later in the day program leaders referred individuals to the next closest food distribution center. Volunteering allowed me to be part of Auntie Helen's rich history with helping the disadvantaged in San Diego.
Auntie Helen's Thrift Store Laundry Services
After the event I was able to find out more information about different services Auntie Helen's provides. Some online research showed me that Auntie Helen's started out in 1988 as a laundry service for people with AIDS. Today Auntie Helen's Laundry Services are provided to help those who are physically unable to. While volunteering I did not notice where Auntie Helen's provides its laundry services but learning about the charity's history helped me appreciate my work more.
Cleaning for Sorted Items
My first activity was to clean donated storage bins and place donated clothes inside. Dust and dirt covered bins that had been outside for some time. After a few wipes and a dry in the sun, I was then able to place folded up clothes into the storage bins. The clothes had already been sorted but still needed to be priced to sell in the thrift store. These clothes would be stored until they are ready for pricing.
Organizing Store Furniture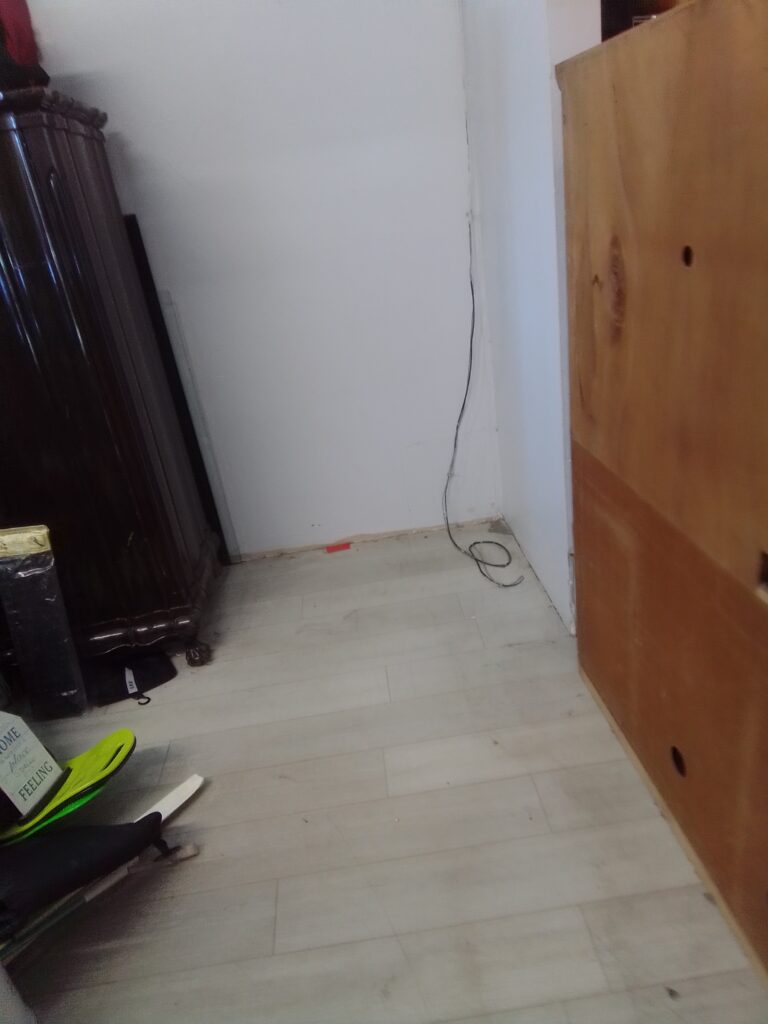 My next activity was reorganizing the Thrift Store. Auntie Helen's gets donations daily so finding the best way to utilize space is very important. First we emptied out and moved cabinets around the shop to make room for a sports section inside the store. A cabinet was replaced with a shelf where sport gear could be layed out. Before the cabinet could be moved we had to remove the dinnerware sets inside. We had to move carefully and place the fragile items in a safe spot as customers were consistently walking in and out of the shop. Moving the dinnerware back into the cabinet made me wonder if I would want a dinnerware set in the future. Having premium dishware would be nice for certain occasions but would I really need it? Maybe some money and my future wife will convince me otherwise. 
Organizing Pet Section
My next organizing activity in the Thrift Store was staging the Pet Section. The corner had once been organized but overtime new pet related items had cluttered the designated space. I found some new unused square cabinets right next to the pet section. Using these square cabinets added much needed space for the pet section. For instance now pet sweaters could be placed inside the cabinets and pet toys could be laid out on top of the cabinets. When organizing the pet section I tried displaying as many items as possible so that items wouldn't need to be disturbed when searching. I also tried displaying pet items in the most visually appealing way to attract customer's eyes to the area.  
Organizing Hanger Racks
My last activity was to reorganize the clothes that were for sale. The store would get messy from the foot traffic throughout the day. So a quick cleanup before closing is always necessary. I first grabbed leftover hangers that had clothes taken off them. This included hangers left on the hanger rack or hangers that had fallen on the ground. At the same time, I picked up any clothes that had also fallen to the ground. 
Conclusion
It feels good to know that a little community service allows me to give back to a historic part of San Diego. I grew up here but I haven't explored this city enough. Volunteering has allowed me to get to know San Diego areas I otherwise may never have visited. Sorting and organizing at Auntie Helen's Thrift Store donations supports Auntie Hellen's other services that help support the community. Laundry and food distribution programs are some of the more popular Auntie Helen's services. I was able to witness people coming in for food but I had to research online to find out Auntie Helen's provides several services that help the community. However, learning about Auntie Helen's origin also taught me about my hometown's history. During my volunteer work, I first cleaned storage bins. Afterwards, I reorganized the store by moving furniture, organizing the pet section, and cleaning hangers and clothes near the hanger racks. Many people depend on Auntie Helen's to eat so volunteers who help sort and organize Auntie Helen's Thrift Store items also support an important service that feeds the San Diego community.
Checkout Auntie Hellen's Social Media
Also check out my other blogs. I have written about other community service expereince and about past projects.