On January 16 2022 I drove to Escondido to participate in MARA Rescue's Farm Animal Support. My second community service was filled with a lot of rewarding hard work. Supporting a farm can be very time consuming but with a few extra hands, work can be accomplished quicker. At the farm, having the right tools also helps finish tasks with less effort. Without a pair of hay hooks it's harder to move hay. Without a shovel it's harder to move dirt. I enjoyed my time committed to supporting MARA Rescue's Animal Farm. First we worked near curious and timid animals that distracted my mind from the community service. Then moving dirt around really dug into some great childhood memories.
Volunteers help MARA Rescue's Farm Animal Support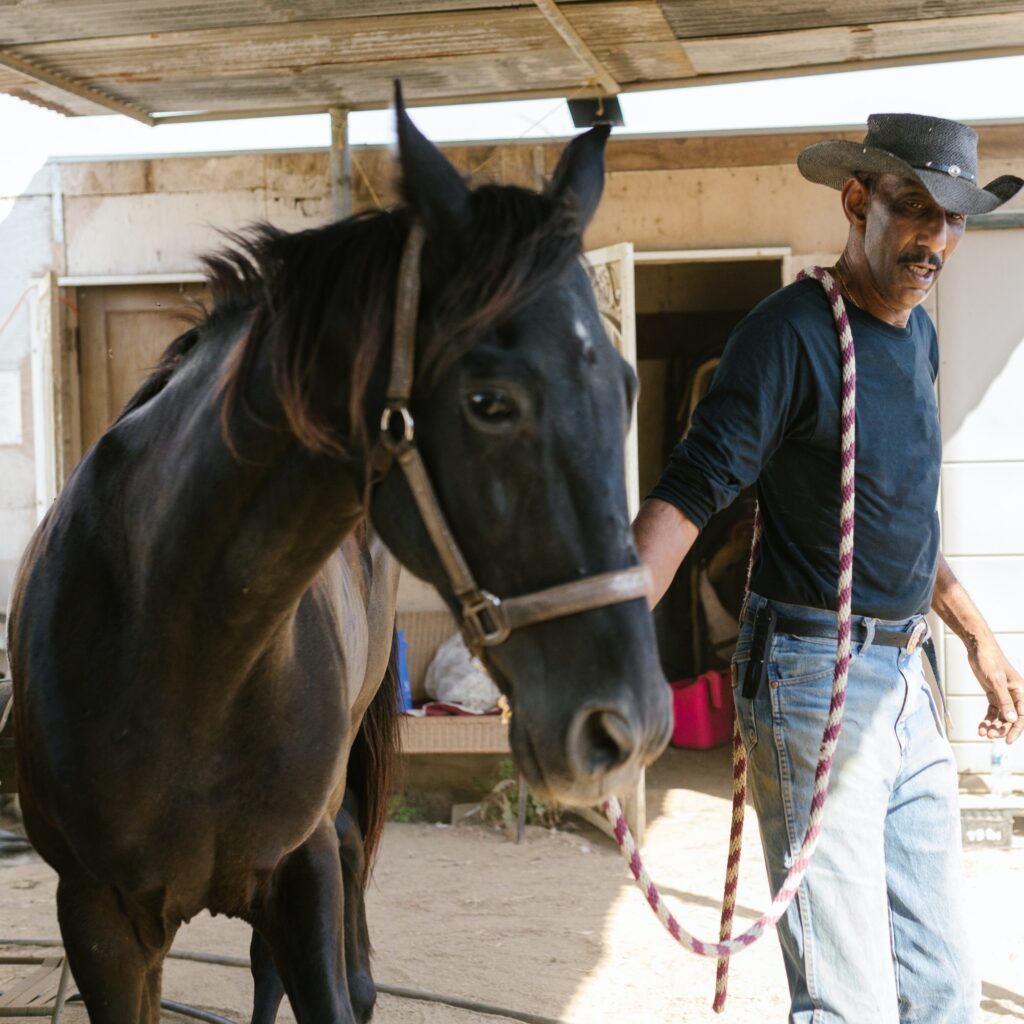 Stock Photos, found online, of animals you can find at MARA
Working outside and with the animals you are helping really makes the volunteer work more rewarding. Work is available around any farm. Volunteers help finish many farm related tasks in less time. MARA Rescue is a 501c sanctuary and volunteer work can lessen the burden of maintaining a farm. We help abused animals when we support MARA Rescue. Help also gives abused animals a caring home.
Unloading Hay at MARA Rescue's Farm Animal Support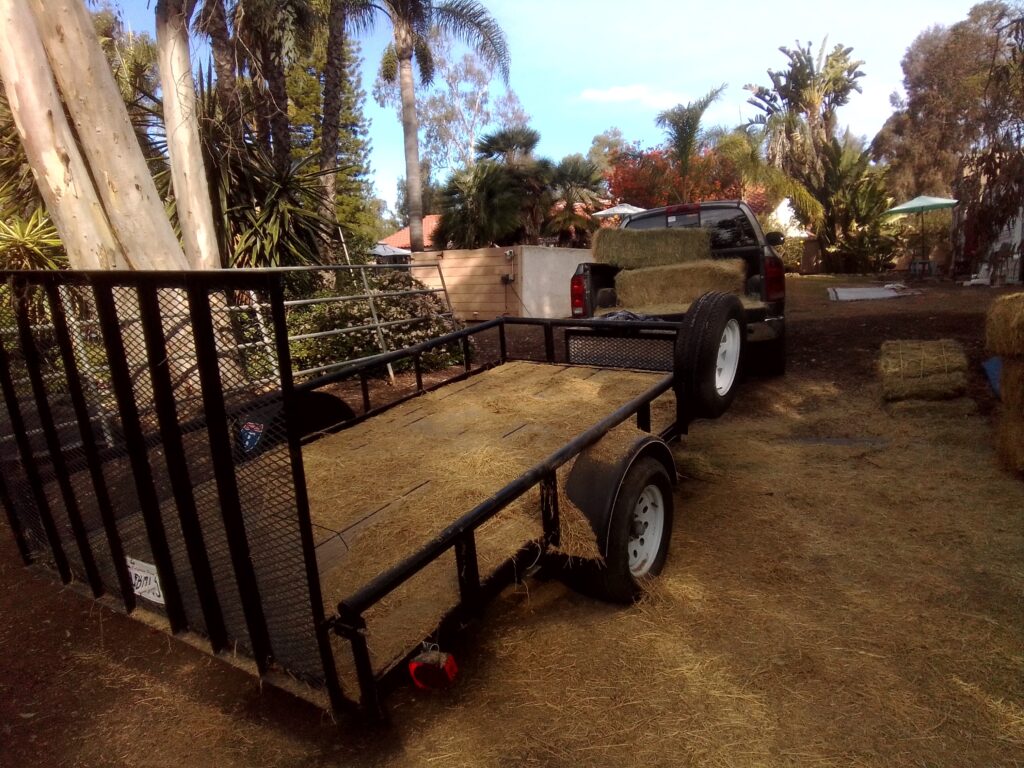 My first task at MARA Rescue was to unload Hay from a trailer. This was my first time handling hay and instead of using hay hooks I decided to bear hug each bale of hay. Handling hay can be uncomfortable if you do not handle it properly. When handling hay it is best to wear thick clothing that covers the skin. My jeans and layers of shirts protected me, but the only material covering my forearms was spandex. This task showed me hay will poke your unprotected skin. I chose to wear my under armor for protection from the sun but in the future I know to wear thicker long sleeves if I believe I might be working with something like hay.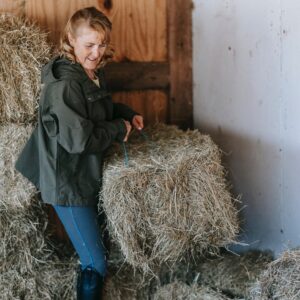 Bale Wraps
After a quick google search I was able to find another blog that explains a method to properly handle bales of hay. The blog shows people picking up the bundles of hay with the bale wrap. When I was handling my first task, I was afraid this wrap would rip and leave me with a mess. To not let hay poke you, do not hug hay, hay is instead picked up by the wrap. The bale wraps can snap which can cause unnecessary work so having the right tools to handle hay can help prevent unnecessary headaches.
Bale Hooks
Using a pair of hale hooks makes moving bales of hay more efficient. Hay hooks work by having hooks with handles that each attach to the ends of the bale. Hay's tight packaging makes gripping hay by hand hard. Hay hooks remove the extra energy used when trying to grasp and pick up hay.
My first task was to unload hay from a trailer. Another volunteer used hay hooks to unload the hay from the trailer while I moved the hay to the appropriate storage location. My task's partner offered to switch the use of the hay hooks but I declined. I thought I was being tough by using my hands, turns out I was just being inefficient. By refusing to use the right tools for the job, I just used more energy to complete my task. Having the right tools makes any job easier.
Unloading dirt at MARA Rescue's Farm Animal Support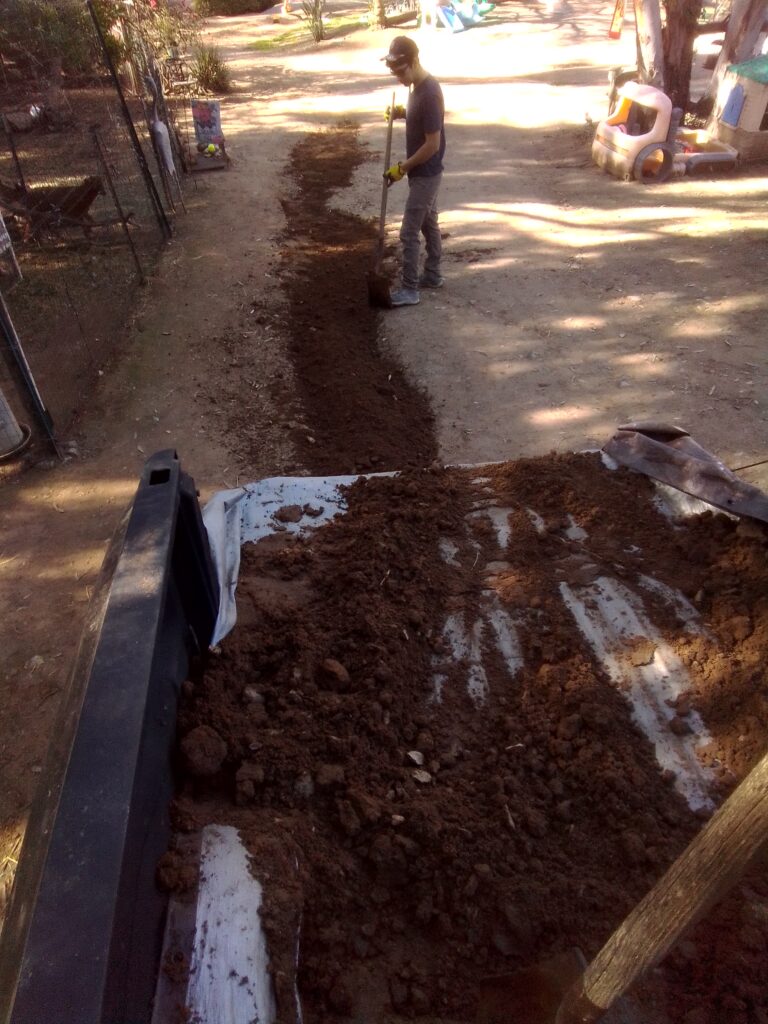 My second task was to use a shovel to unload dirt off a truck and to even out the road. Erosion causes many divots in the soil. Rain's leftover water runway that travels down the farm. Moving dirt with my bare hands would feel impossible so using a shovel made the job painless. It felt great to see the ground patched up and feel the smoother road driving up the farm's hill.
Animals at MARA
Supporting MARA Rescue's Animal Farm was enjoyable because I didn't even feel the hours fly by. For instance, during each task, an animal was always a glance away. Seeing animals react to me working was hilarious as some animals wanted attention while others hid away. While moving hay some horses looked excited while others continued to mind their business.
Memories
Digging also brought back some fond memories of making dirt bike ramps as a teenager. In middle school my friends and I used to always grab my uncle's shovels and go build ramps to ride and jump off. At first we started making jumps in the alley behind my house and as our jumps got bigger we first moved over to the top of a hill at a park. Eventually, we ended up riding trails at our local river valley. These are some of my best childhood memories. 
Conclusion
I participated in my second community service event on January 16 2022 at MARA Rescue's Farm Animal Support. The event was filled with hard work and with my extra pair of hands I could help keep the farm maintained. Working near the animals was rewarding as I could see who my work would be helping. Pleasant distractions and having the right tools made the volunteer work much easier. I now know that hay hooks are important if you want to efficiently move bales of hay. Using a shovel reinforced the lesson that having the right tools can make any task easier. Seeing cute animals and being reminded of good memories is what make community service at MARA Rescue's Animal Farm very enjoyable. MARA Rescues Farm is far for me to travel. However, I will return very soon.
Visit MARA Rescue's Animal Farm's social media.