On January 15 2022 I participated in my first community service outside of high school at a Habitat Restoration in Olivia Canyon. In 2022 I really want to focus on personal growth and volunteer work is one way to increase different life skills. Working on habitat restoration was fun and reminded me of my childhood memories of working in my home's lawn. I used to always pull out weeds with my hands, but at Olivia Canyon I used a Stirrup hoe for the first time. I learned how invasive species of plants can prevent native species of plants from growing in our communities. Participating in this community service provided me with a different opportunity for me to learn and give back to the local habitat.
Olivia Canyon Habitat Restoration Inspiration
During my last two years of High School I participated in about 150 hours of Creativity, activity, service (CAS) experiences. CAS is one of the elements needed to complete the International Baccalaureate Diploma program. Think of CAS as a more loose version of community service for high school students. Anything that has a learning benefit can be considered as a CAS experience. This included experience such as: Sports, Internships, jobs, and volunteer work. Each activity also needed a project that explained some of the lessons learned while working. Here are some of my old CAS projects This might explain my inspiration to write about my most recent experience.
After 2 years of hard work I was able to graduate high school in 2013 under the IB program, but little did I know that I would not serve my community again until 2022. Community Service has many benefits for not only the community but also for myself. They say "nothing in life is free" but community service helps make changes in our neighborhoods from free work. One can also argue that the work pays the individual through life experiences.
I am trying to find ways to gain skills and life lessons from my community service. One goal I have set myself for 2022 is to keep finding ways to better myself. Community service will provide new experiences for me to grow. If I had not signed up for the Olivia Canyon Habitat Restoration, I probably would have spent my Saturday morning sleeping.
Olivia Canyon Habitat Restoration Lessons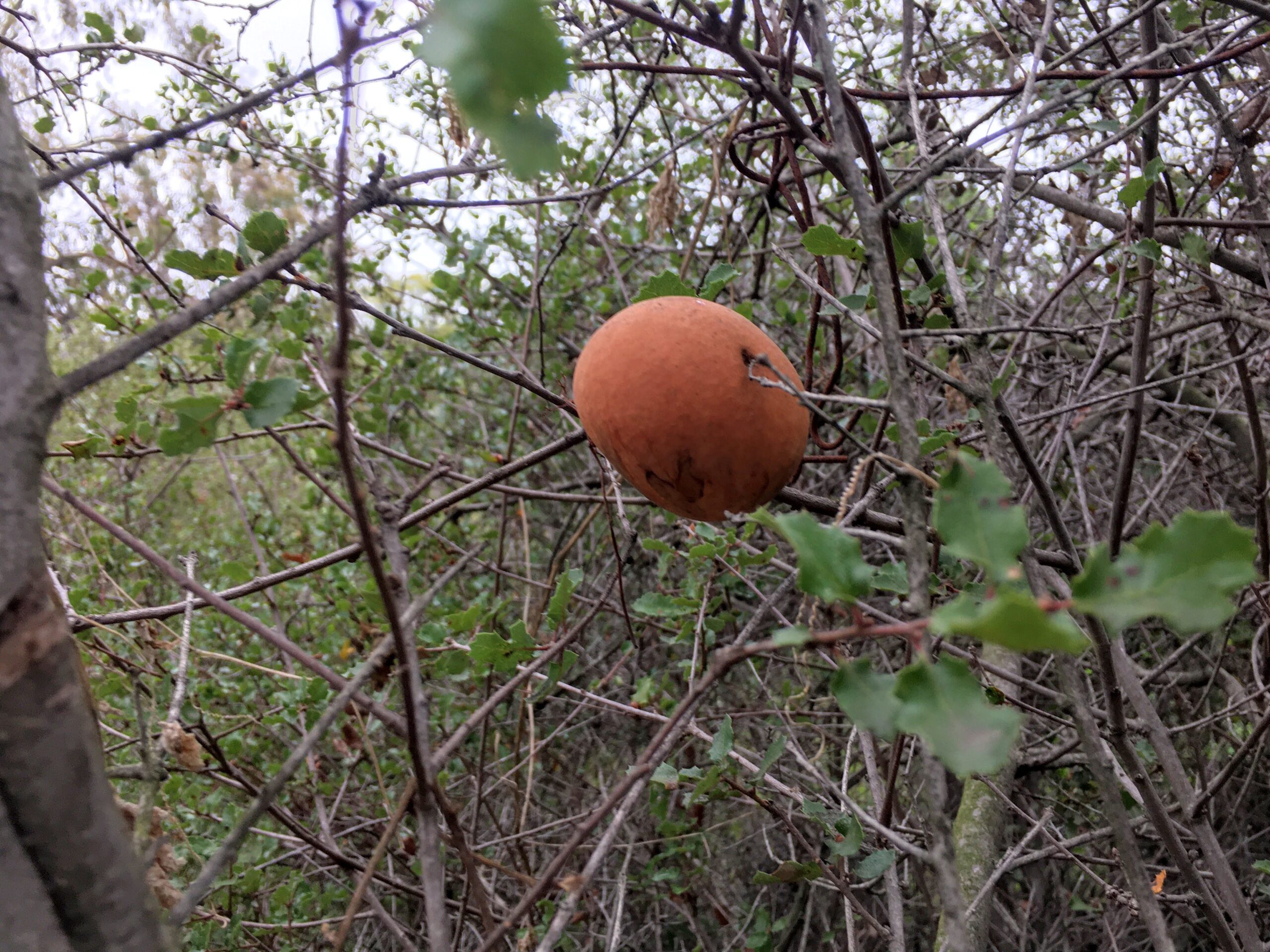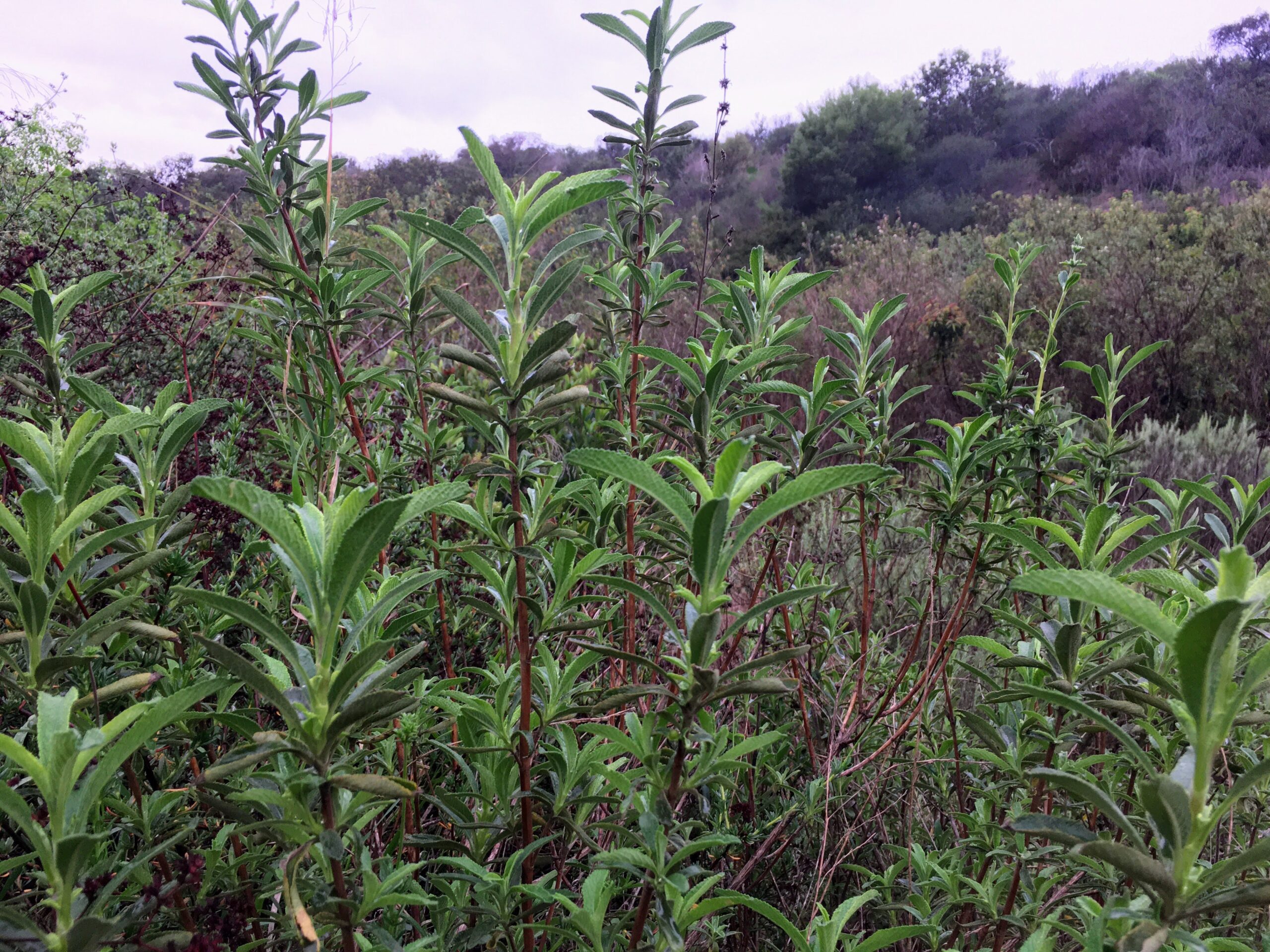 Restoration Protects Native Species
Olivia Canyon Habitat Restoration's main goal is to remove invasive species from the canyon to allow room for native species to grow. Certain species of plants in the canyon may be brought in by other animals or purposely planted by humans in the past. Not all invasive species are completely bad because some can be used as food ingredients or herbal medicines. Invasive species tend to be well adept at surviving and expanding quickly. Native plants may not be as adept at surviving and cannot compete against their unnatural neighbors.
Two important tasks are accomplished by removing invasive species. First, removing invasive species creates less competition for native plants. Native plants have more space to grow and can absorb more local nutrients. Second, we prevent the further expansion of the invasive species. Invasive species grow quickly, so it is important to remove plants in a timely manner before they flower and release pollen in the Spring.
Invasive species like to grow, so removing them can be a lot of hard work. Completely removing invasive species in 1 3-hour event is impossible. This is why constant restorations are necessary to keep species of plants under control. I have already signed-up for the next habitat restoration event on February 19 2022.
Pulling from the Roots
It is best to pull out plants that are still attached to their roots, when trying to eliminate invasive species. To achieve this, it is best to remove invasive species with the use of your hands. Derooting plants with hands is also easier with bigger plants as it is easier to grab on to the base to pull out the whole plant. This takes skills as a lot of invasive plants have evolved to break at their stem. This allows roots to stay in the soil so the plant can continue to grow for another season.
I have my own strategy when pulling out weeds. Maintaining my childhood's front lawn taught me a technique to effectively remove plants. When pulling plants out you want to grab the base of the stem closest to the soil. As you pull on the stem, give it a twist. This method works best for me, when I am trying to pull the entire plant out.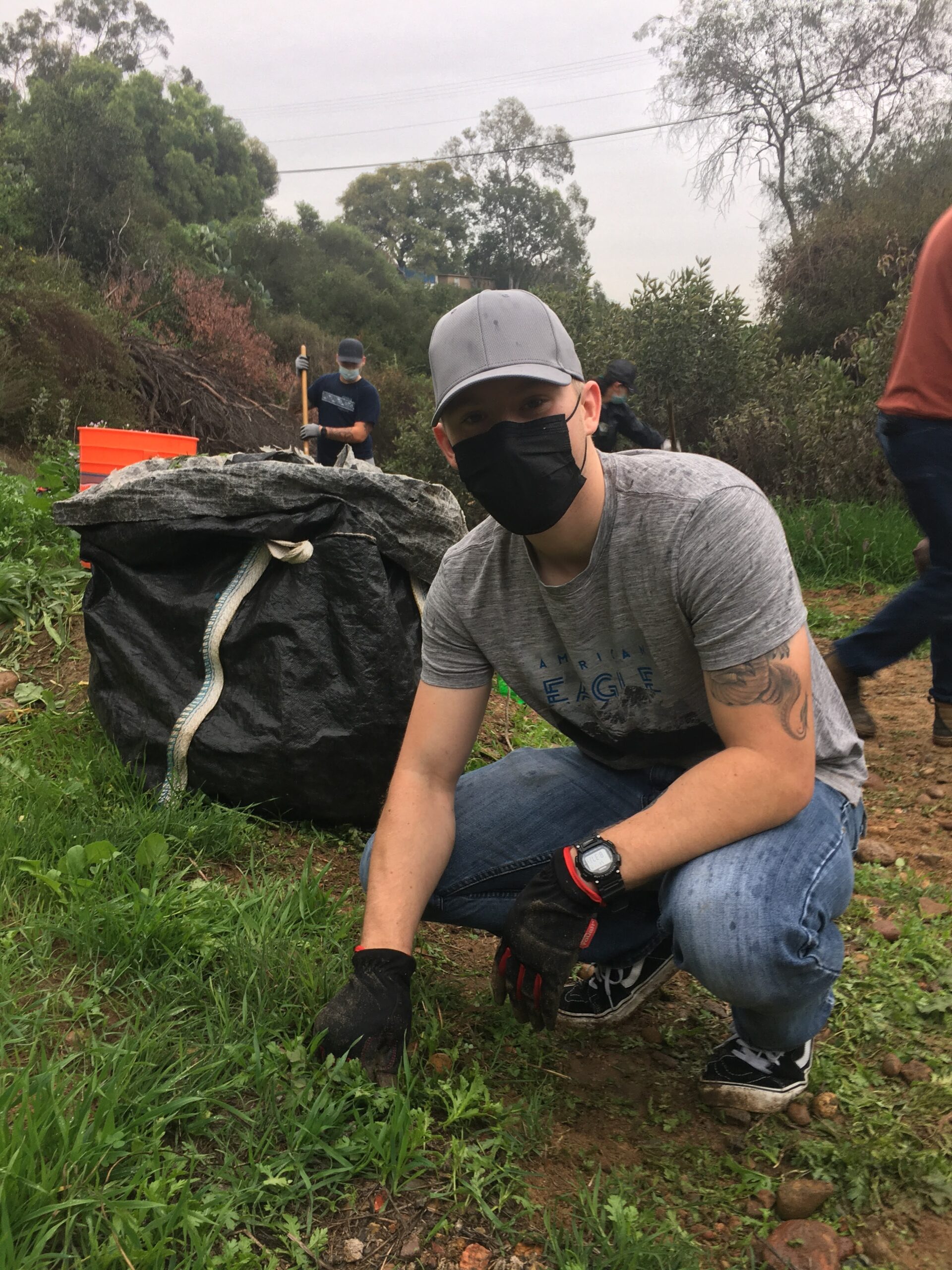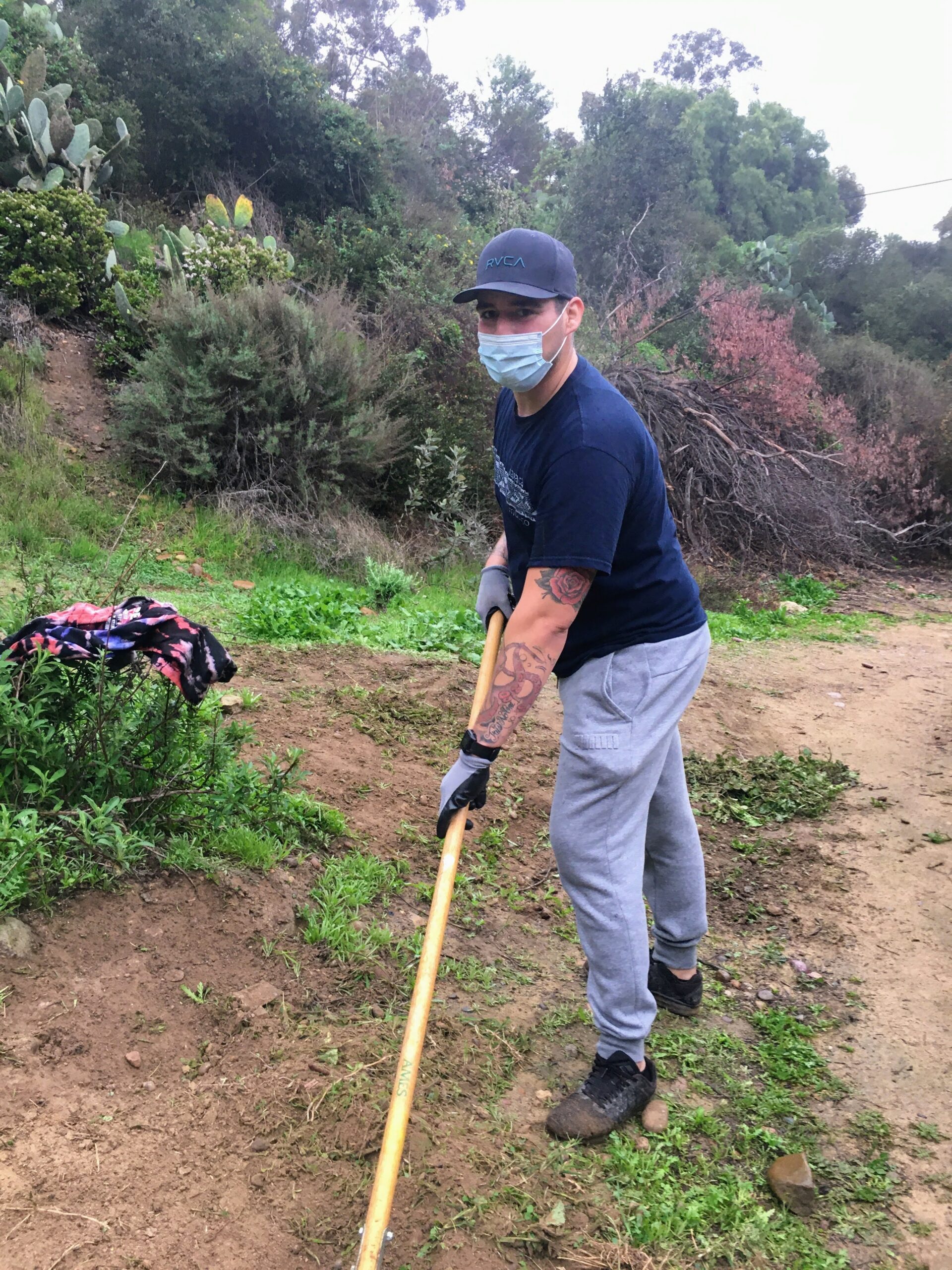 Habitat Restoration Using a Stirrup Hoe
During this event, for the first time, I used a stirrup hoe to loosen weeds from the soil. The hoe was good for pulling out groups of smaller weeds. This tool is good for removing large amounts of plants in an area. The blade of the tool cuts under soil to remove patches of plants. As this tool reaches underground, there is no guarantee the entire root is removed. The tool can also create a mess by mixing parts of the plant with soil. A rake could be used to better separate the leftover plant material. Even with a rake I found It difficult to completely remove the plant material from the dirt.
The hoe may not always be the best method of completely removing invasive plants. The hoe is still a great tool to remove large groups of unwanted plants. Even if certain parts of plants are left behind, disrupting the invasive plant's environment may be enough work to help prevent further spread in the future.
Oliva Canyon's Wet Soil vs the Roots
I also learned that it is easier to deroot plants in wet soil. On and off rain flooded January 15's morning. The weather might have been related to the tsunami warnings caused by the eruption of a volcano in the South Pacific. The rain did not stop me from attending the event. The rain did make me uneasy as I was unsure if the event would still continue. Turns out the rain benefited the event. Wet loose soil made it easy to deroot plants with both our hands and with the hoe.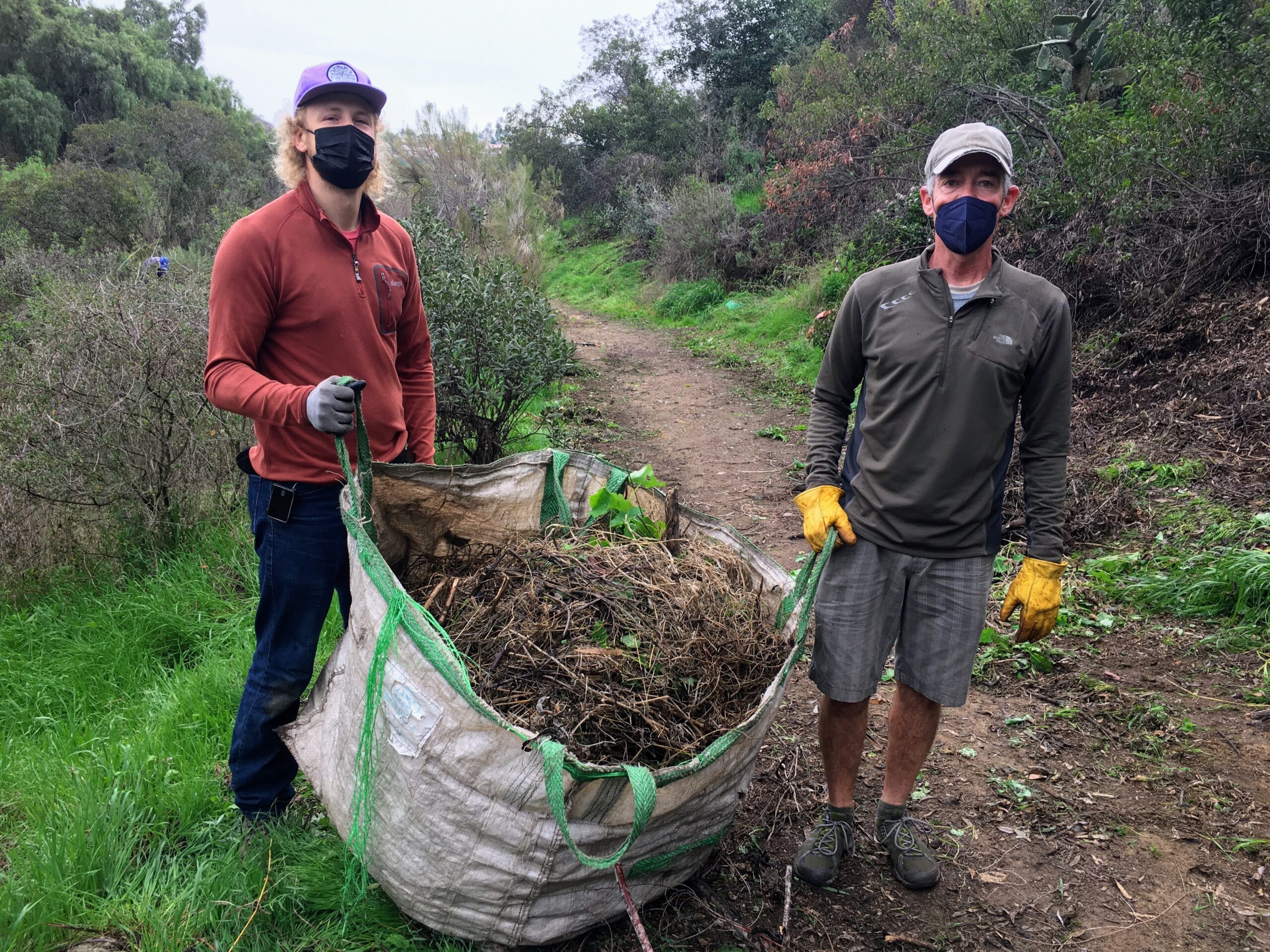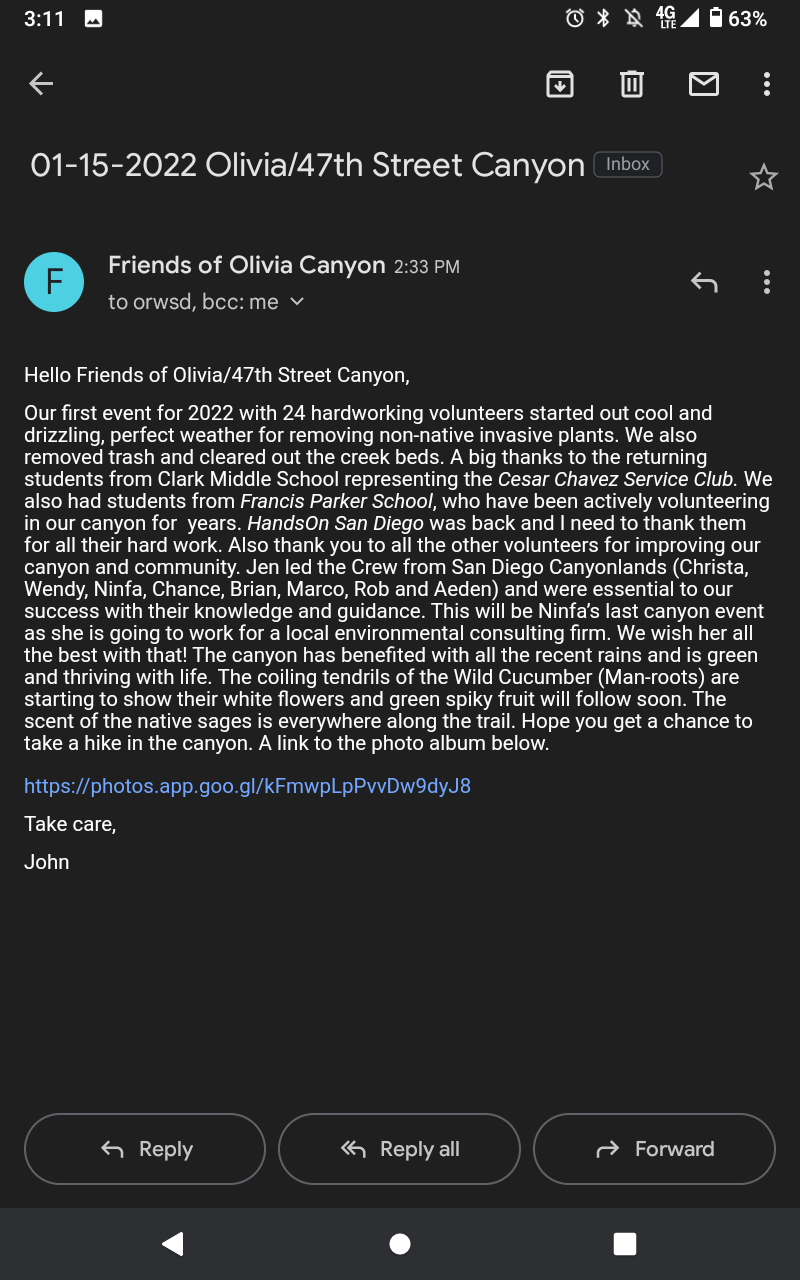 Conclusion
Olivia Canyon held its first 2022 habitat restoration on January 15. This event was a great way for me to learn and give back to the community. Through this volunteer work, I learned the importance of supporting native species by removing invasive plants from the environment. I used a stirrup hoe for the first time and learned how wet soil can ease the process of plant derooting. Participating in this event was a great way to work close with nature.
To find future volunteer work I participate in, read my blogs found in the community service section.